About
Us
Learn more about the history of Bi-Tapp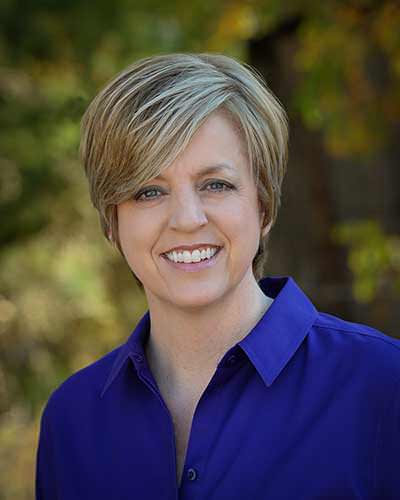 Cindy A. Jones, LCSW
Co-Founder, CEO
Cindy grew up in Colorado and Castle Dale, Utah. She completed her undergraduate degrees at the College of Eastern Utah and Southern Utah University. She obtained her Master's Degree in Social Work from the University of Utah in 1996.
Cindy is a mental health therapist, who has been in practice for 25 years. She primarily works with adults in the area of trauma resolution. Cindy conceptualizes treatment through the lens of EMDR therapy, which is an integrative, comprehensive therapy that has successfully been used to treat a wide variety of issues and disorders. Additional therapies she has received advanced training in and has integrated into her therapeutic practice include, Ego State therapy and Somatic psychotherapy.
Cindy serves as the CEO of Bi-Tapp, Inc and feels strongly that this resource is the penicillin of our day. "There will never be enough mental health therapists available to meet the growing needs of our communities. Exploring resources that can have an immediate positive impact is essential. Bi-Tapp (bilateral tapping) is one of those resources."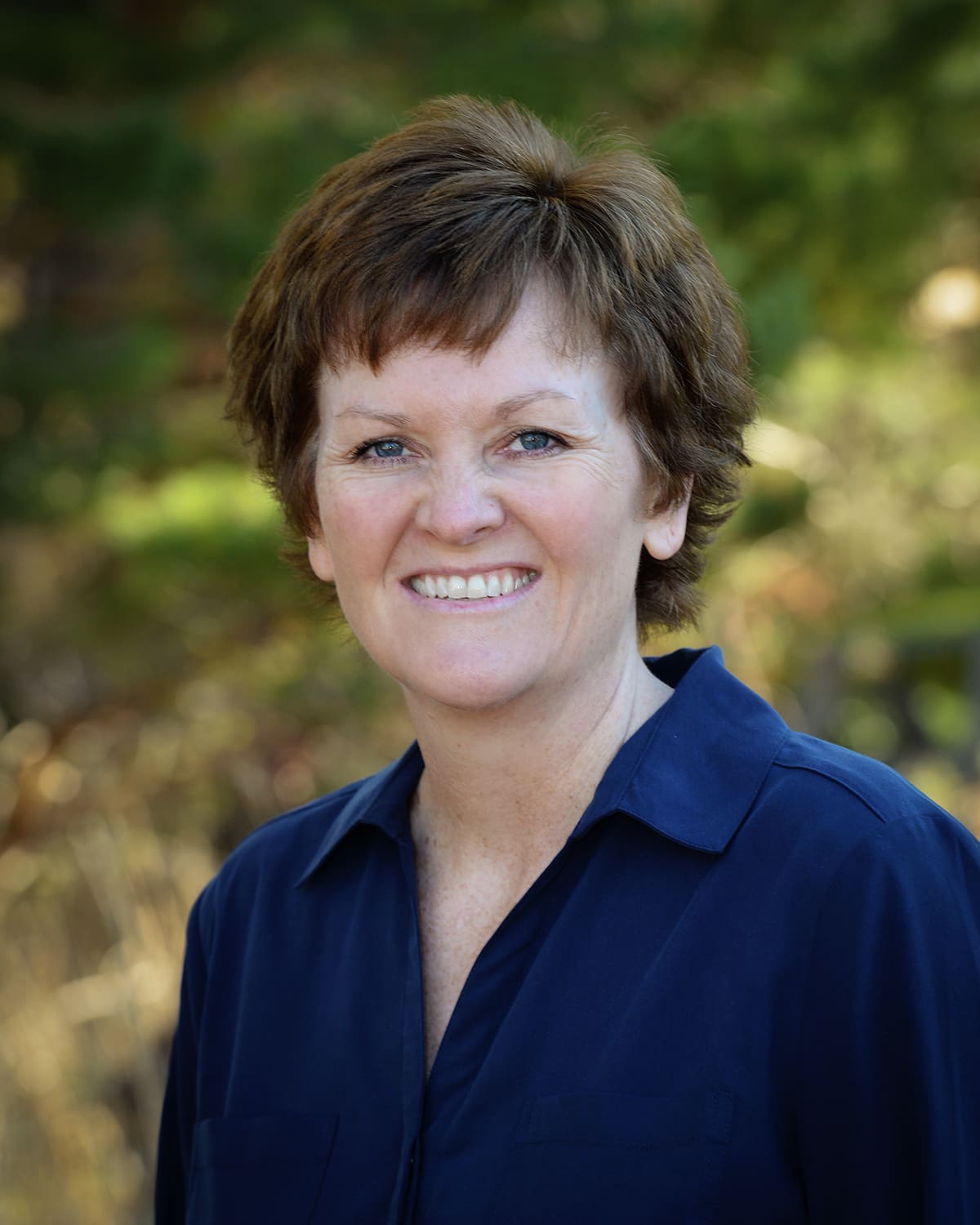 Hayley Taylor
Co-Founder, COO
Hayley grew up in Cedar City, Utah. She graduated with her Associate's Degree from the College of Eastern Utah and later received her Bachelor's Degree from Southern Utah University.
Hayley chose to delay her career to stay home and raise her 4 kids. As they grew up, an opportunity to work came along. Hayley became the Administrative Director of the practice of Cindy A Jones, LCSW & Associates. During this time, the practice expanded to 8 therapists. Hayley continued to balance family and work for many years.
After a period of time, EMDR therapy became the main treatment modality used at the practice. Due to the effectiveness of this therapy, every therapist had a full caseload and a long waiting list. Out of sheer necessity, Hayley and Cindy began to explore ways that could help the community at large. Hayley had the idea to make bilateral tapping available as a resource to the general public. When she said it, they both knew this was the direction they needed to take.
In 2016, Hayley and Cindy began to work with a team of engineers to create the Bluetooth tappers. They formed the company, Bi-Tapp, Inc. Hayley currently serves as the COO.
The Making of
Bi-Tapp, Inc
By Cindy A Jones, LCSW
Why I became an EMDR therapist
br>
In 1996, when I was attending graduate school in the field of social work, we were told by a professor that EMDR therapy (Eye Movement Desensitization and Reprocessing), developed by Francine Shapiro, PhD was a flash in the pan kind of therapy and that it wouldn't be around for long.
I did not challenge that belief until 16 years into my practice when I was working as a mental health therapist, primarily focusing in the area of trauma resolution. I had several clients who had experienced complex trauma and I did my very best to facilitate their healing, relying on everything I had been trained in up to that point in my career. However, my best was not enough, we were managing symptoms instead of resolving them.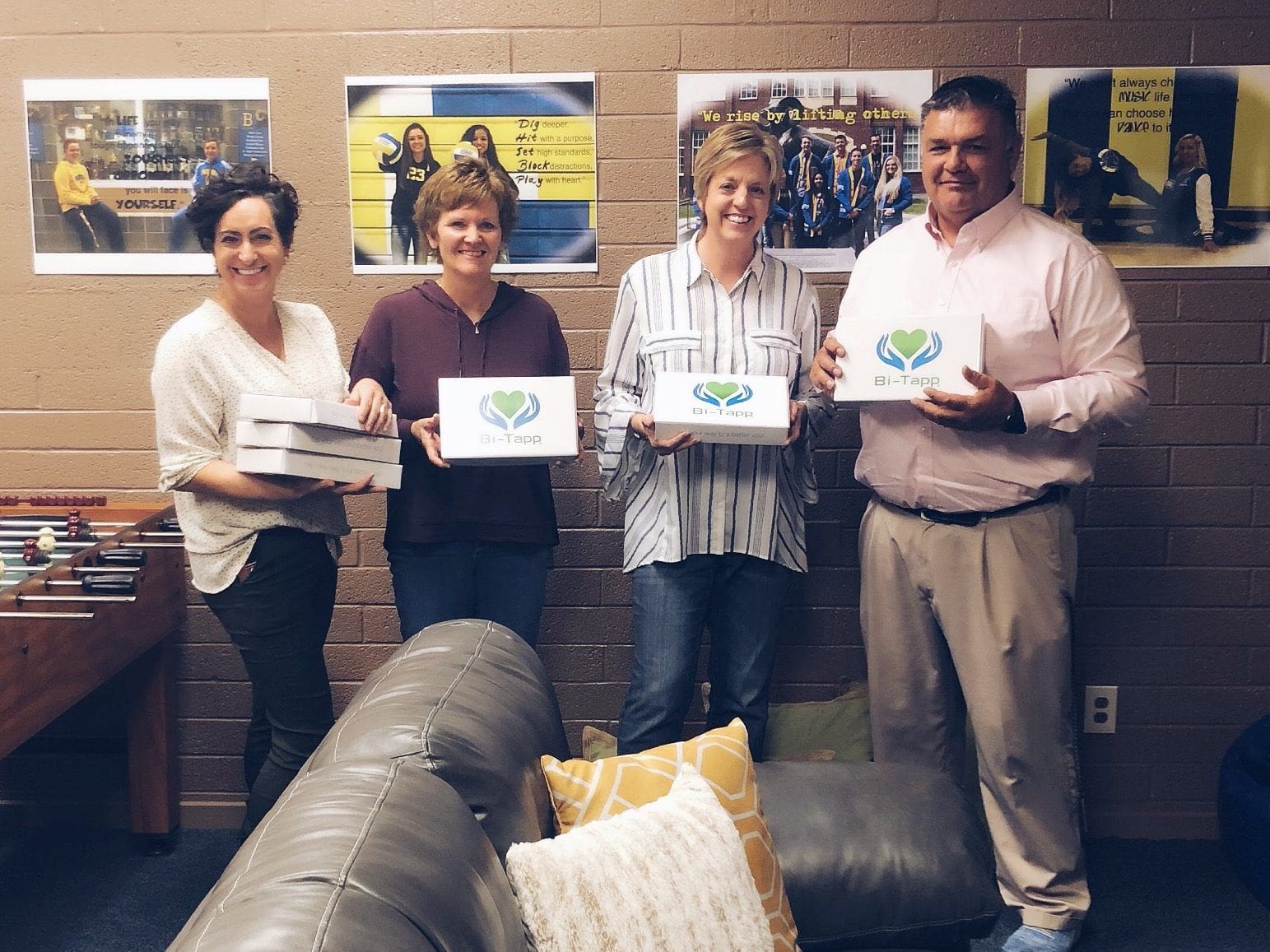 Natalie Townsend, CMHC, Hayley, Cindy and Principal Roy Matthews at Parowan High School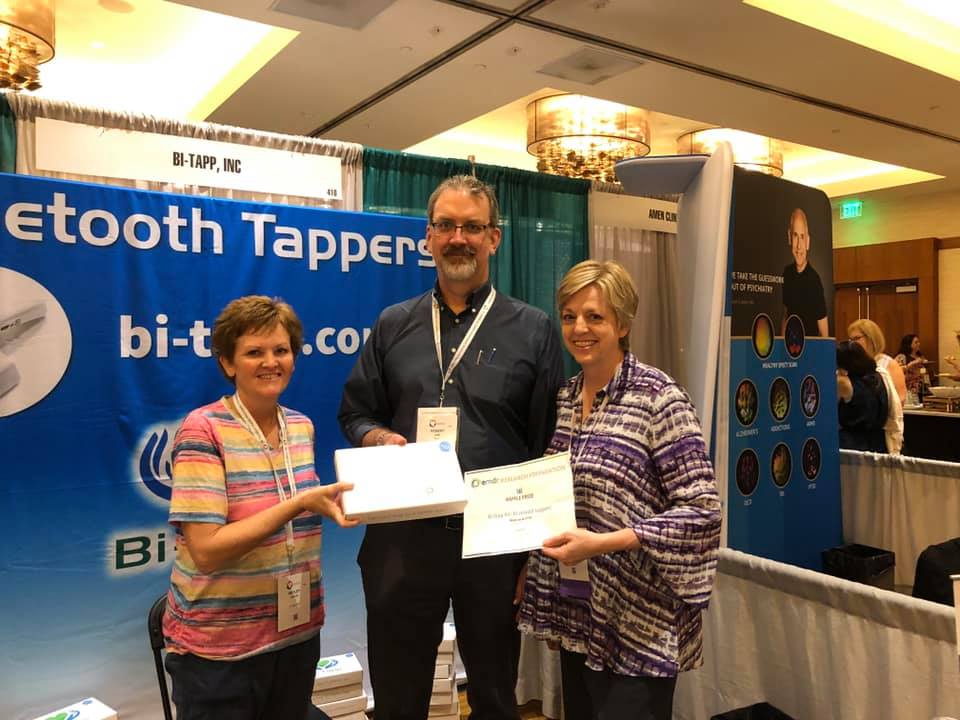 Hayley, Robert Land and Cindy at the EMDRIA Conference
One of these clients began exploring different treatment modalities and excitedly reported to me how effective she had found EMDR therapy to be. Based on her positive experience, I began to research this therapy and chose to become trained in it myself.
There are touchstone events in all of our lives and my decision to become formally trained in EMDR therapy was one of the best professional decisions I have ever made.
There is an increased understanding of how our brain functions and how it is impacted by stress and trauma. As a result of this increased understanding, therapeutic approaches have been developed to facilitate our natural ability to heal. I have witnessed healing on deeper levels using this evidence based therapy than I did prior to my training to become an EMDR therapist.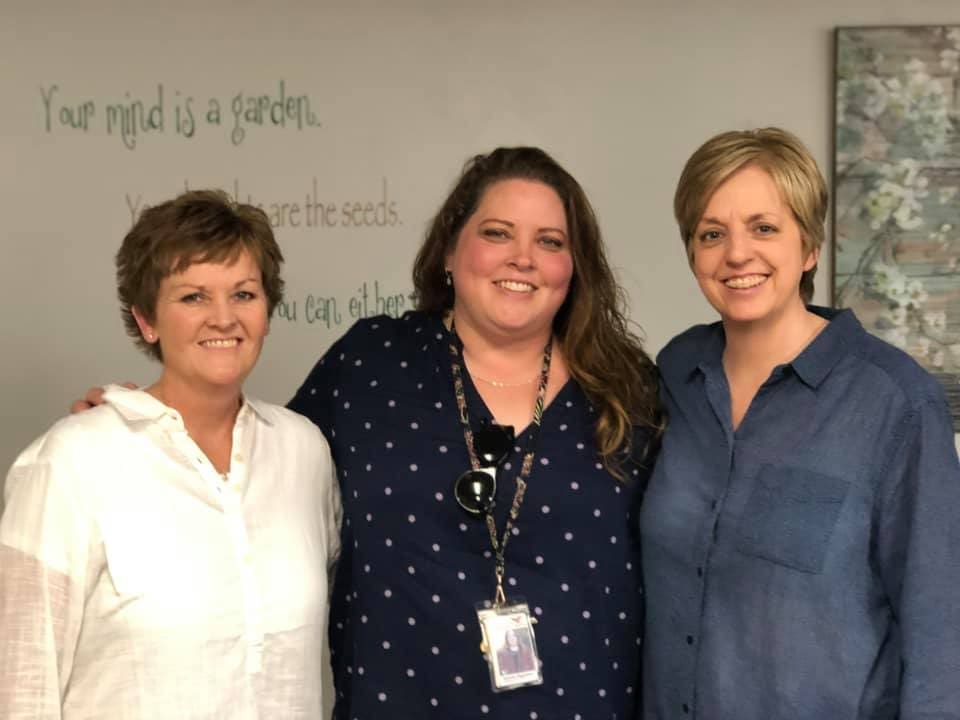 Cindy and Hayley with Valeria Faaootoa, Therapist at Red Hawk Behavioral Health.
Read about how her program uses the tappers here.
Bilateral Tapping offered as a calming resource to the general public
br>
br>
I have attended many advanced clinical trainings and will continue to do so, in an effort to stay current in my field and grow as an EMDR therapist. Two of the EMDRIA (EMDR International Association) approved trainings I attended, influenced our thinking in regards to the creation of this product:
One of the first advanced trainings I attended was by Mark Grant, MA from Australia. He has researched bilateral stimulation as a stand-alone resource and found that it was very effective in reducing anxiety and pain. The Apps he has developed for the general public to use focuses on bilateral tones.
br>
I had clients use these Apps as a resource and their feedback was positive. There was even one student attending a local university who had test anxiety. She received permission from her professor to listen to the bilateral tones (Anxiety Release App) while taking a test and she scored over 90%.
I also attended advanced trainings by Craig Penner, LMFT, who teaches in great detail how to track whether or not someone is in their "window of tolerance" or not, a term coined by Dr. Dan Siegel. Craig primarily uses manual bilateral tapping as the means to reprocess trauma and I found that the tapping was preferable to the equipment I had used to date.
br>
Hayley and I were convinced that we needed to replicate the tapping sensation as closely as possible, especially since people were going to use the tappers as a calming resource.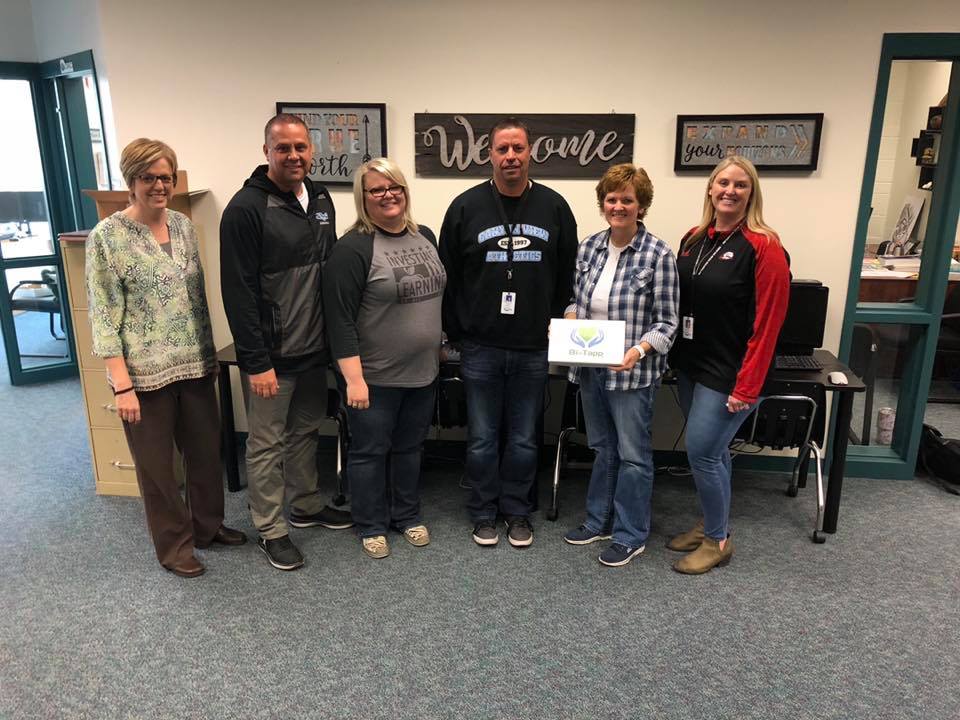 Cindy, Kim Blackner, KarriAnn Raddon, Chad Winters, Hayley, Ashley Whiting with Canyon View High School Counseling Department
We met with a team of engineers in February 2016 to share our idea and they agreed to work with us. We got to the point where we had prototypes for people to try out, we wanted feedback. We had people of all ages try them as well as people with various presenting issues try them.
We had people use the tappers for a short amount of time, for thirty minutes at a time and then we asked people to use the tappers as often as they felt they needed or wanted to use them, including someone who used them for several hours during an international flight.
The feedback was overwhelmingly positive. We continued to refine the tappers, until Bi-Tapp, which stands for bilateral tapping became available for the general public to purchase on November 1, 2017.
Bi-Tapp is Used
Around the World!


Bi-Tapp is Used
Around the World!