News
Stories
Learn more about what is happening in the world of Bi-Tapp.
Jubilee of Trees
Advancing mental and behavioral health resources for children and adolescents
December, 2022
St. George, UT, Jubilee of Trees fundraiser this year is focusing on improving the availability and accessibility of mental health resources for children, adolescents and their families. "The Intermountain West, like much of the nation, is experiencing a pediatric mental health crisis…suicide is the leading cause of death for Utah youth ages 10 to 17."
Bi-Tapp is actively involved in our local community. We donated a Bi-Tapp kit as part of the Jubilee of Trees fundraiser. We also regularly work with schools, agencies, families, mental health therapists, and the community at large, teaching how to calm you stress and anxiety through bilateral tapping (Bi-Tapp) and other "Help in the Moment" resources.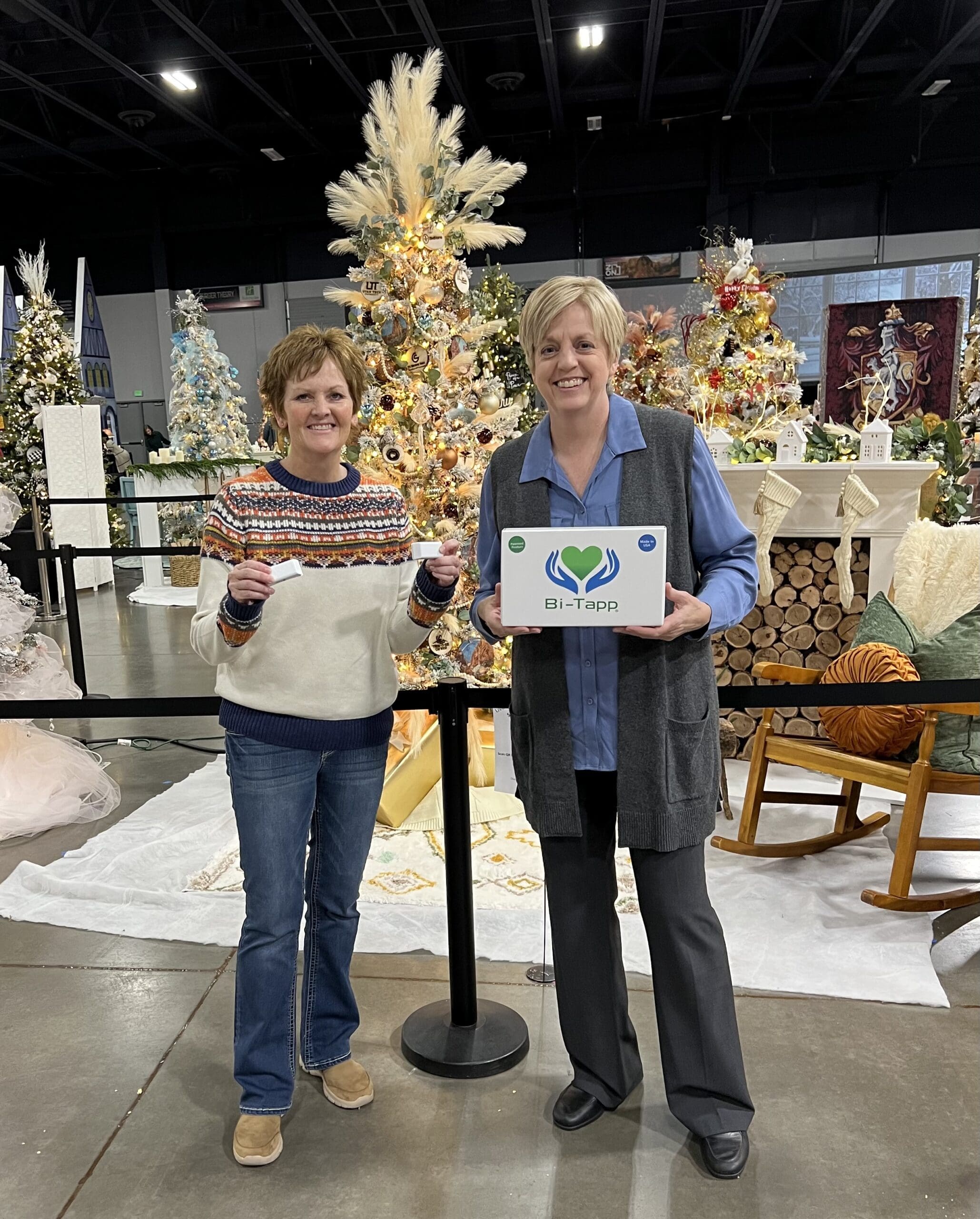 Bilateral
Stimulation
December, 2022
Thank you Tom Hill for hosting this event through The EMDR Learning Community.
Beaver County School District,
UT
November, 2022
Lynsey Bond, School Social Worker for Beaver County School District, who covers the entire District, stated:
"Bi-Tapp has been an amazing resource for our students and staff alike. I can't be at every school every day. Because of Bi-Tapp accessibility, students are able to experience the benefits of increased emotion regulation without missing out on class time.
I am seeing students so excited about the difference that they see and feel within themselves and it's incredibly empowering. Bi-Tapp has increased the number of students that are able to receive additional help and they are opening doors for students who might not have felt comfortable meeting with me one one one.
Our staff have also found benefit using Bi-Tapp through increased calm and focus."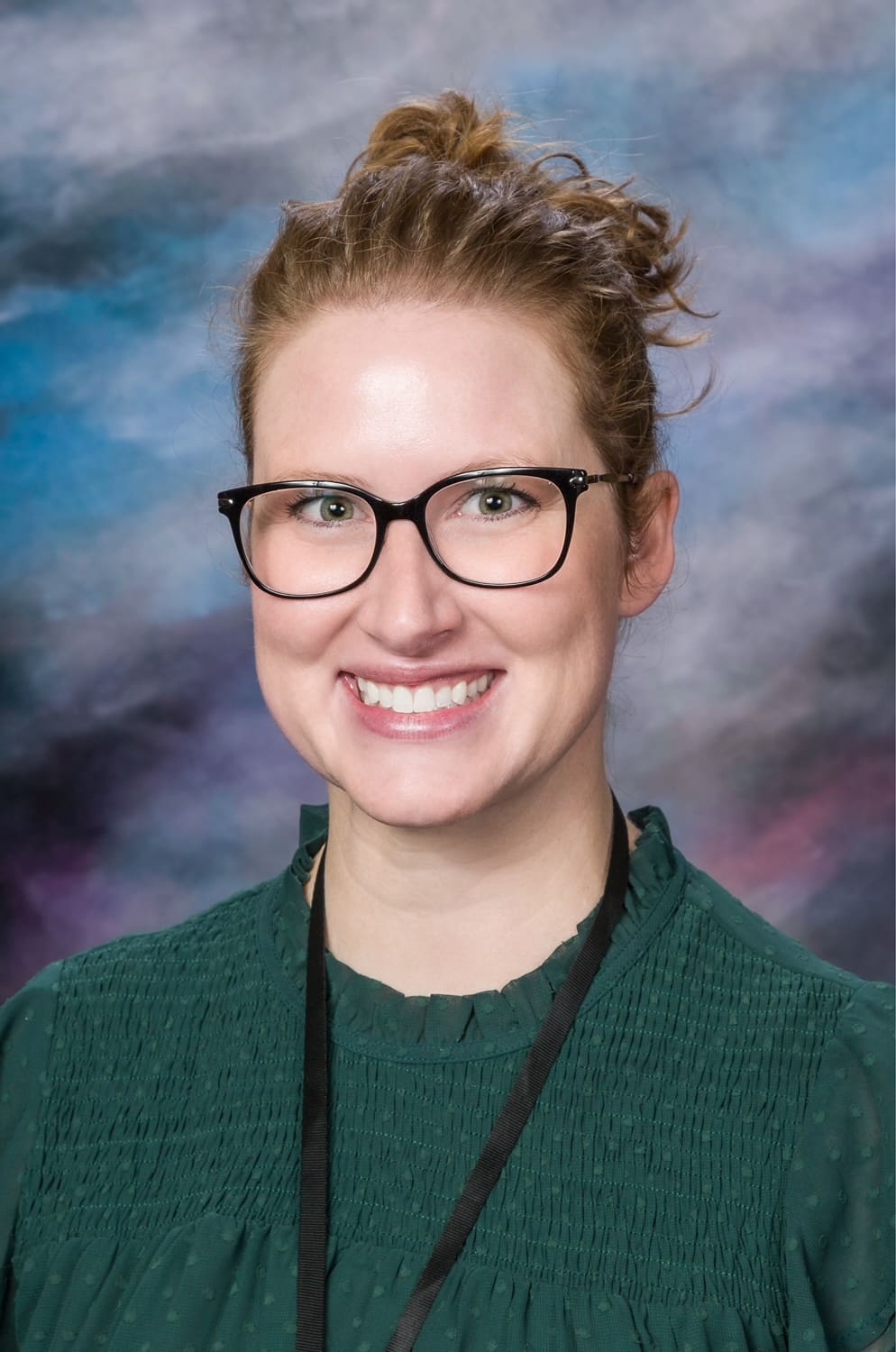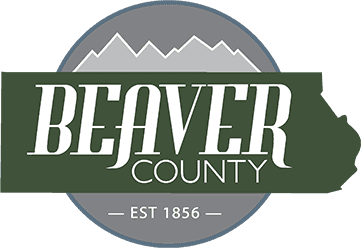 Juvenile Justice & Youth Services
Administrative Retreat
October, 2022
"
The mission
of the Division of Juvenile Justice and Youth Services is to be a leader in the field of juvenile justice by changing young lives, supporting families and keeping communities safe." In order to accomplish this mission, it is important that the well-being of the employees is a primary focus. They are often exposed to difficult and stressful situations on a consistent basis. Reviewing the
Help in the Moment
strategies with the leadership team at this retreat is something that can be immediately put into practice. Simple strategies that anyone can do, anywhere, anytime.

Southern Utah University
Disability Center
October, 2022
Southern Utah University (SUU) Disability Center now has several Bi-Tapp kits available for students to check out and use as needed to:
Reduce stress and anxiety
Improve focus in the classroom and while studying
To use when taking tests (reduce test anxiety)
SUU now has three locations where students can access tappers and check them out, similar to checking out a library book.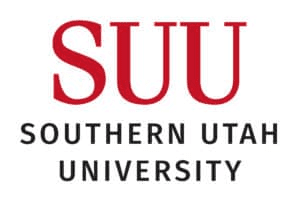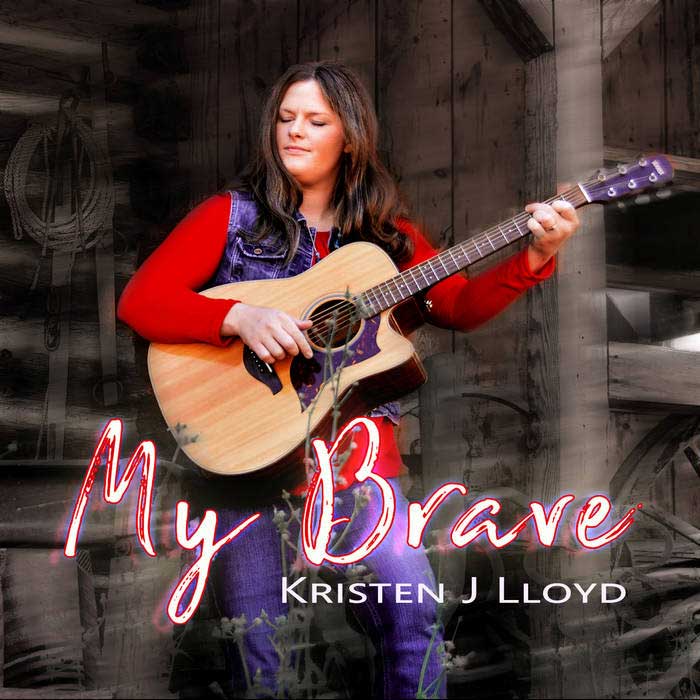 Found My Brave
Kristen J. Lloyd
September, 2022
Kristen J. Lloyd is a singer/songwriting, author/illustrator, western performer, and motivational speaker. She recently graduated from college despite having only a 5th grade education to start with before college. Her song, "My Brave" has resonated with audiences of all ages. "I'm going to help the World become a Braver place, One Brave Finder at a time."
Kristen's message resonates with Bi-Tapp's mission. When you are able to calm your nervous system down using Bi-Tapp, you can "find your brave". We look forward to our collaboration with Kristen.
Cherish
Families
September, 2022
Cherish Families is an organization that assists polygamous families and communities with the resources they need to manage crisis situations. Their mission statement is: "We connect individuals and families, primarily from polygamist cultures, with tools and resources for generational success."
We had the opportunity to work directly with advocates/case managers of Cherish Families. Having a working understanding of the window of tolerance and basic coping strategies to help your nervous system calm down serves those you work with as well as yourself. When you are the "helper" in a crisis or difficult situation, it can be overwhelming. Having access to a resource such as Bi-Tapp that you can use in the moment of distress as well as afterwards to help your stress level return to baseline helps prevent burnout and lessens attrition. Cherish Families uses the tappers for both staff and clients. This tool remediates secondary traumatic stress in their staff, and helps their clients become more calm and focused.
Shirlee Draper, their Director of Operations, stated "Bi-Tapp has made a huge difference for us. I use them to stay focused while working, to help my grandson who has ASD, and to help friends who are going through a rough time. Our team uses them to do intakes for clients in acute crisis, and they have really helped."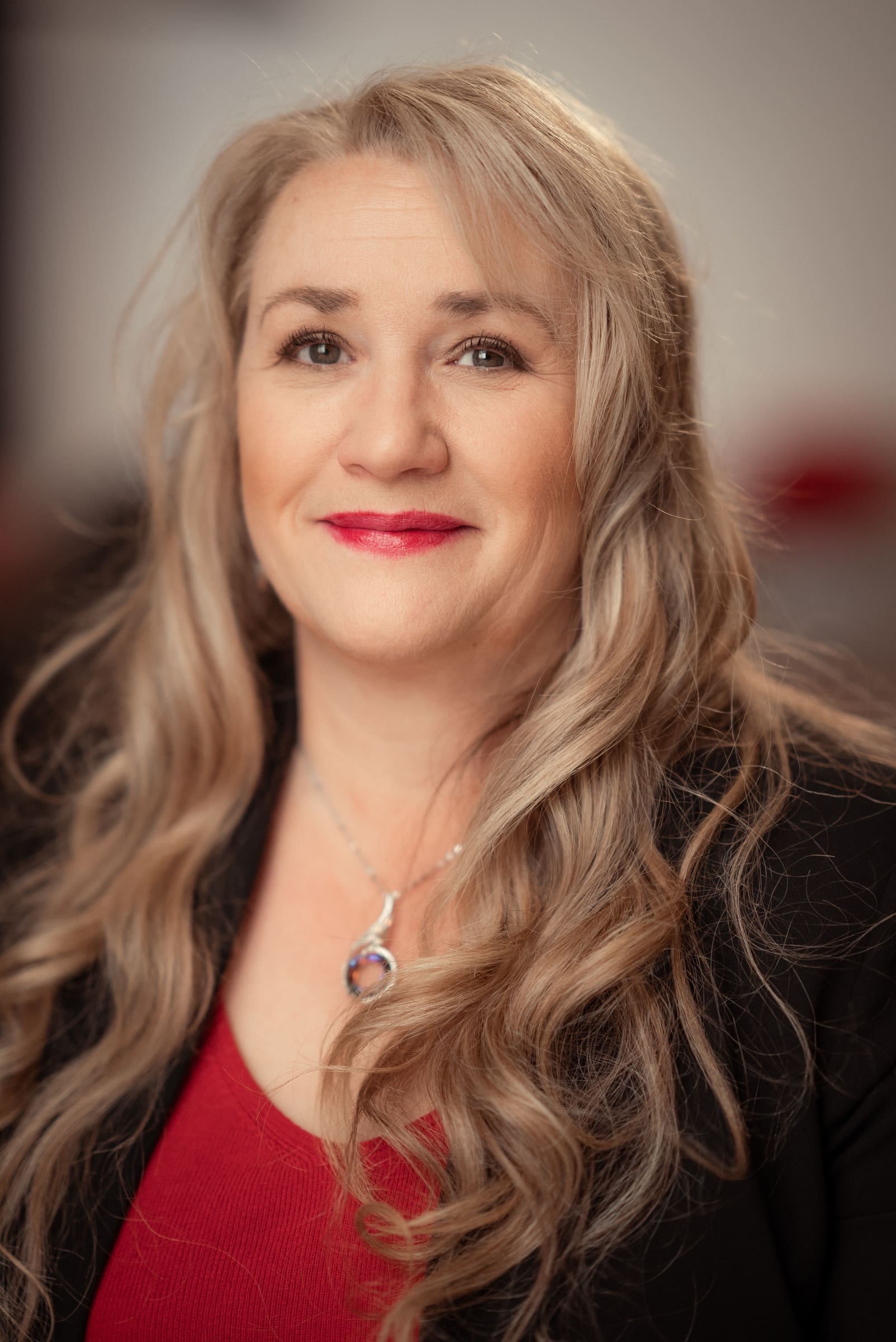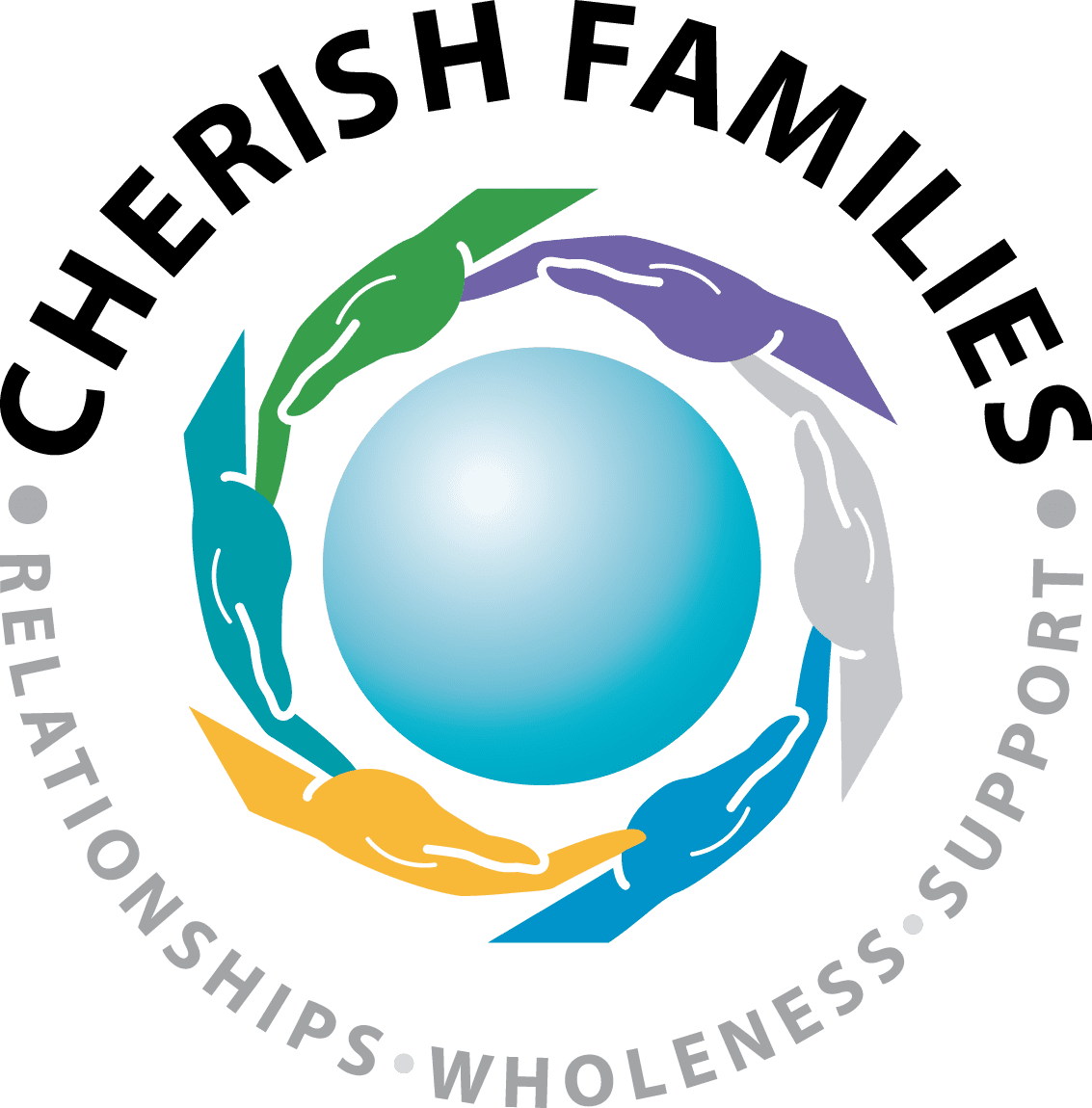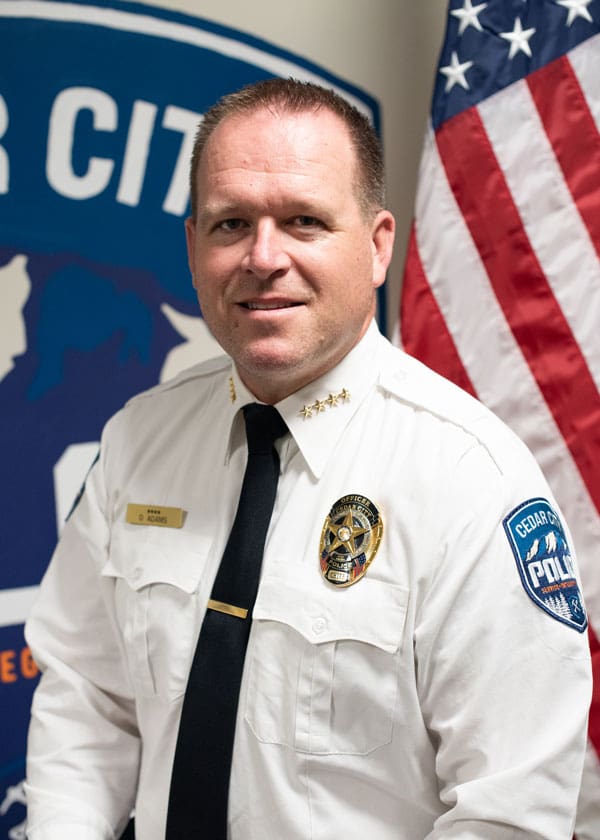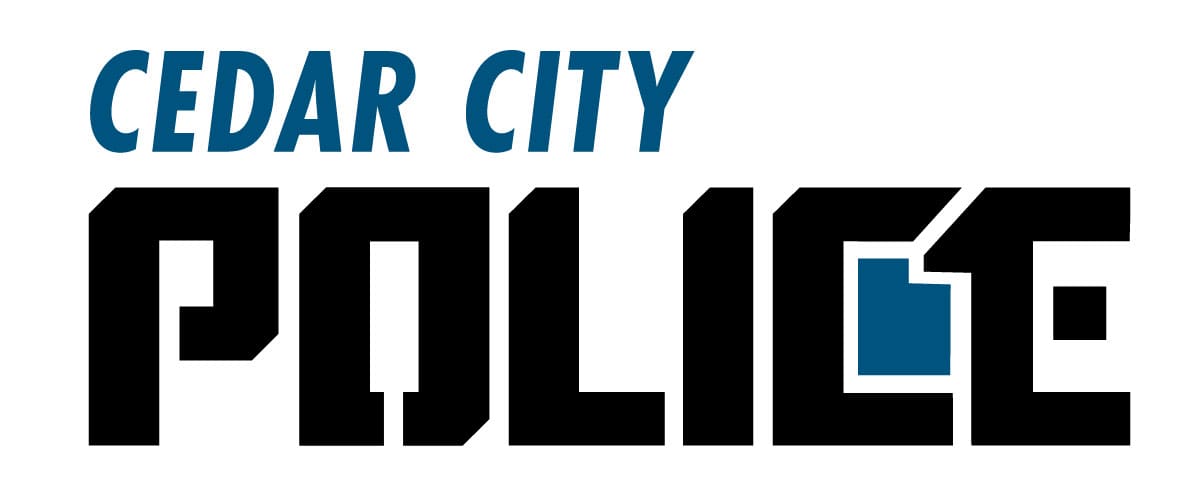 Cedar City, UT
Police Department
August, 2022
Cassie Edwards, the Executive Assistant to Chief Adams, applied for and received the State-funded Mental Health Resource grant for First Responders. "The purpose of the grant application is our ongoing efforts to support our officers and staff with mental health awareness. We have provided various clinical, peer support, and prevention awareness services with the funding. I want to extend a special thank you to all who have helped in this endeavor."
Due to the funding that came from this grant, every officer was given a Bi-Tapp kit. The tappers provide the officers with a resource they can use to proactively manage the stress that is associated with their line of work.
Chief Adams stated, "Our first responders are constantly bombarded by varying levels of stress, which can have an adverse impact on their job and their personal lives. Ensuring their mental wellness is as important as anything we can do for our employees. I am committed to supporting this project and any other that will do just that!"
Bi-Tapp is a
Teletherapy Resource
August, 2022
Using
remotEMDR
teletherapy platform, the therapist can now control the bilateral tapping during a teletherapy session. This option is now available for iOS (Apple) and Android devices.
Teletherapy is helping address the need for mental health therapy in rural areas and other areas where access to treatment is limited. remotEMDR and Bi-Tapp saw a need and worked together to create a solution.
Your client will need Bi-Tapp tappers
Your client will need to pair the tappers to the Bi-Tapp App
Click on this link for full instructions to set up the remotEMDR/Bi-Tapp integration for a Teletherapy session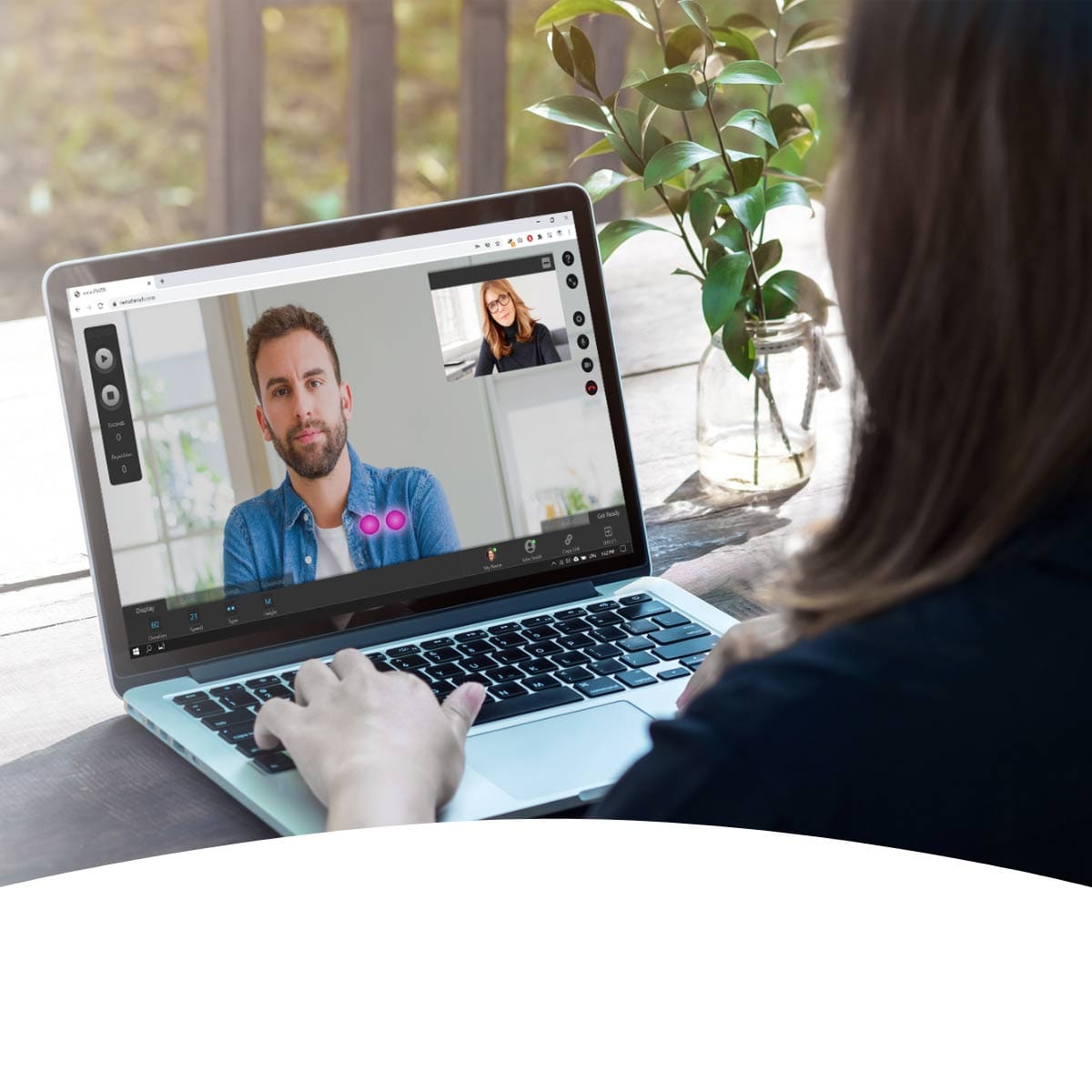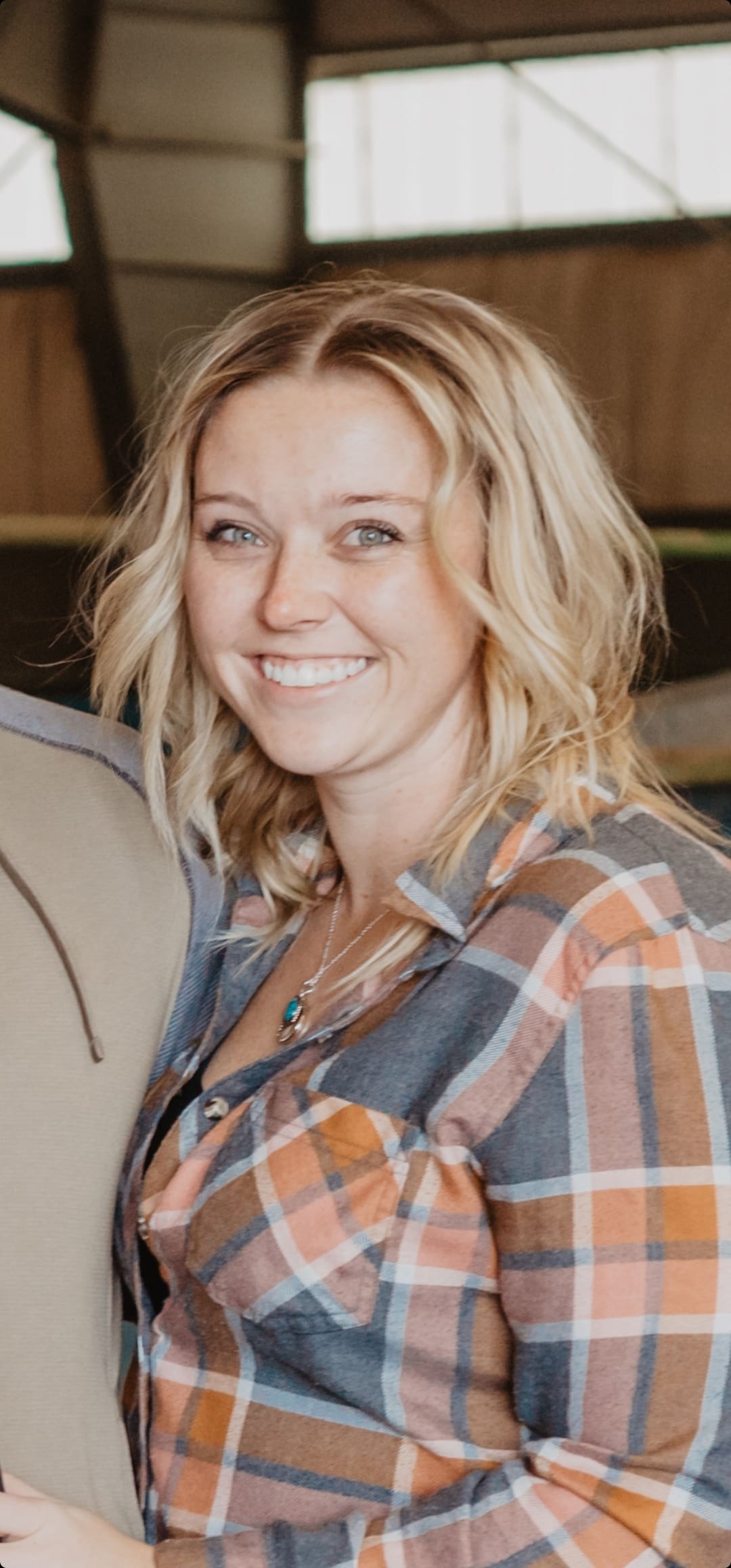 Iron County Sheriff's Office
Utah
Brionna Sherratt, M.P.A., C.A., Victim Services Program Manager
July, 2022
"Four years ago when the program started, I saw the value in having a resource for victims and First Responders to have access to in stressful situations. There have been multiple instances where victims and First Responders have utilized the tappers to calm themselves during stressful situations. One of the instances that stands out is when a victim had to see their perpetrator in court. After being handed the tappers, the victim was physically calmer and less anxious. The tappers were amazing at helping her manage her anxiety."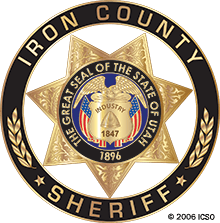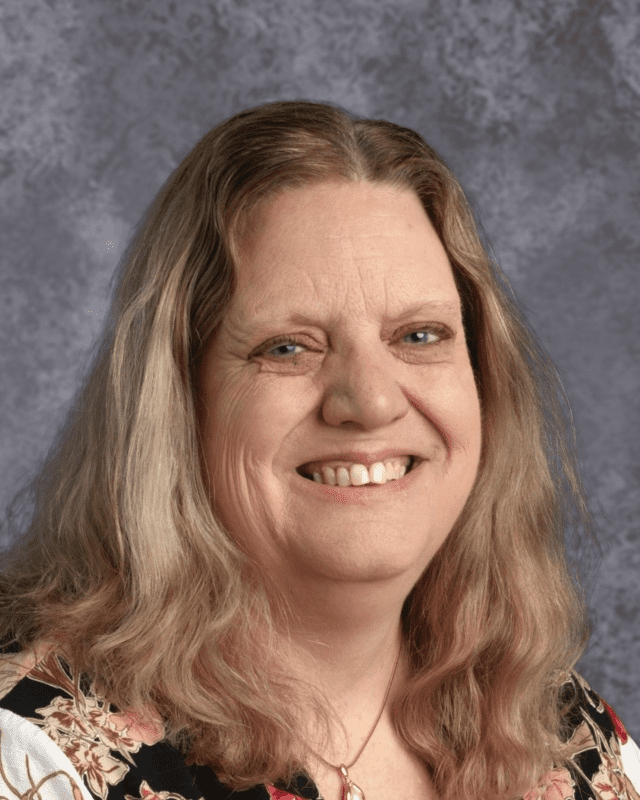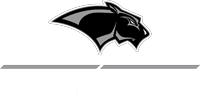 Bi-Tapp is helping improve reading scores
Pine View Middle School
May, 2022
Mrs. Gifford, who teaches at Pine View Middle School, Washington County School District in Utah, wanted to see if the tappers could help her Literacy Class improve their reading scores. These 8th grade students are reading at a 2nd-3rd grade level and are regular education students.
The results after two months of using the tappers.
⅓ of the class raised their Lexile level 20-40%. (A reading scale)
School Counselor Skills Conference
Washington County School District
April, 2022
School Counselors deal with many difficult situations every day. We had the opportunity to teach the
"Help in the Moment"
strategies at this conference. These strategies are being used with students of all ages, colleagues as well as the School Counselors themselves, in moments of heightened stress anxiety. These are resources that can be put into practice immediately. We all do better when our nervous system is calm and regulated.

Southern Utah University
Health & Wellness Center
March, 2022
Southern Utah University's (SUU) Health & Wellness Center has incorporated Bi-Tapp as a resource for students to check out, similar to checking out a library book. Students are using the tappers to help reduce their stress and anxiety, including test anxiety.
Jessie Mineer, Coordinator of the Health & Wellness Center stated, "The Bi-Tapps have been a huge hit!"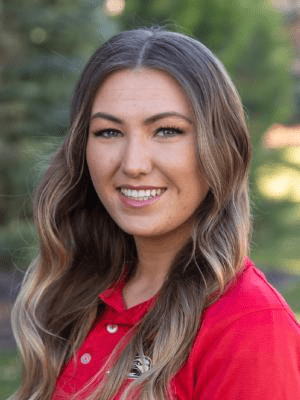 Utah Student Services Directors/
Spring Conference
March, 2022
We are grateful to the Utah Student Services Directors Association. This amazing group of people work tirelessly throughout
the year and then meet together every spring to collaborate and learn about resources that they can take back to their School Districts.
We were invited to share how Bi-Tapp is being used in School Districts throughout Utah and across the country to reduce anxiety
and stress as well as improve focus.
The tappers are a resource for adults as well as students. There has never been a time when teacher burnout has been higher.
There is "Help in the Moment" of heightened stress and anxiety and it starts with Bi-Tapp. Simple solution, profound results.
Bi-Tapp App
and chromebooks
March, 2022
Bi-Tapp App can be downloaded on chromebooks
Both Washington County School District and Iron County School District in Utah have approved the Bi-Tapp App for students to use on their chromebooks.
Why is this big news?
When you have several students in a classroom wanting to use tappers at the same time to take a test, for example, it is faster to have the students pair their tappers to the Bi-Tapp App on their chromebook than to have the teacher pair each set of tappers for the students.
Southern Utah is leading the way in helping reduce anxiety and stress in the school setting.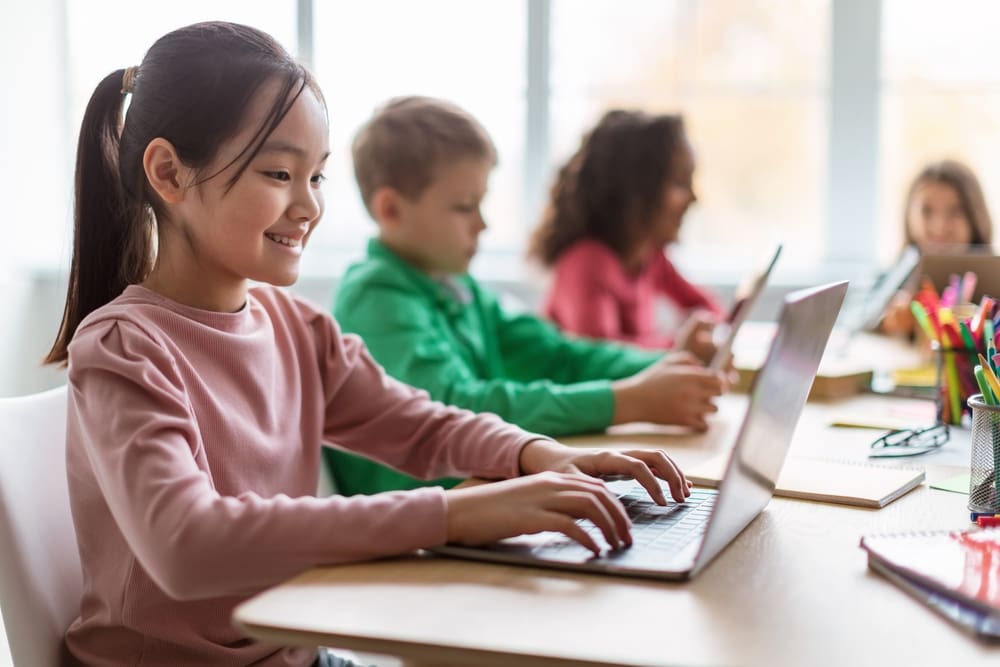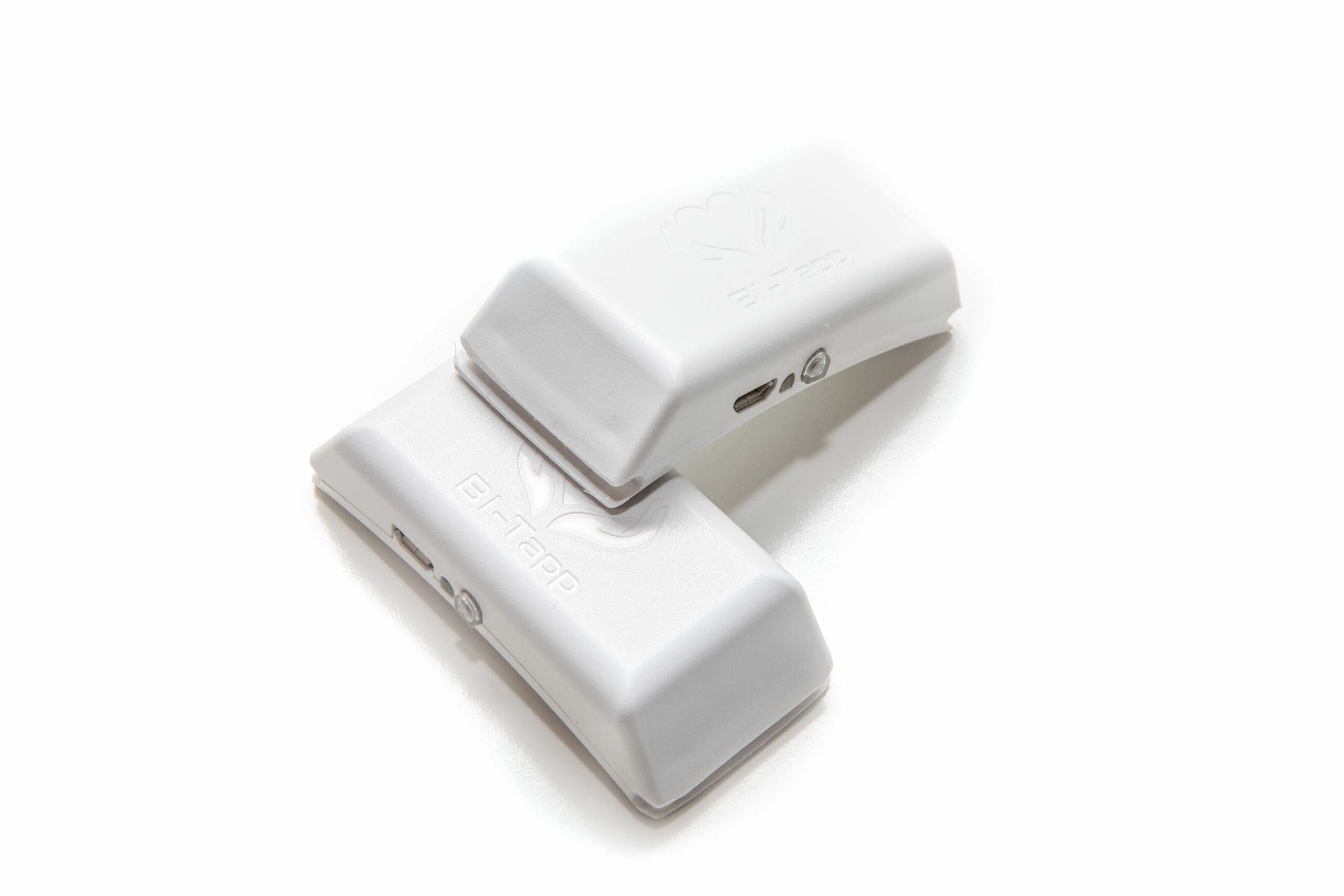 RemotEMDR /
Bi-Tapp Integration
June, 2021
Tactile BLS for Teletherapy sessions is now available: A remotEMDR/Bi-Tapp Integration
We have an exciting announcement! remotEMDR is the only online platform to offer therapist controlled tactile BLS using Bi-Tapp tappers.
To use remotEMDR with Bi-Tapp, you or your client will need to buy Bi-Tapp's kit. Please note: the Bi-Tapp/remotEMDR integration currently works with iOS devices only. (the Android App will be released soon) Please make sure your client has access to an iOS device before purchasing tappers.
Once you have the tappers, click on this link for full instructions on setting up the remotEMDR/Bi-Tapp integration on your device.
Have any questions? Contact us!
For more details on Bi-Tapp and its integration with remotEMDR, contact us at customerservice@bi-tapp.com contact remotEMDR at info@remotEMDR.com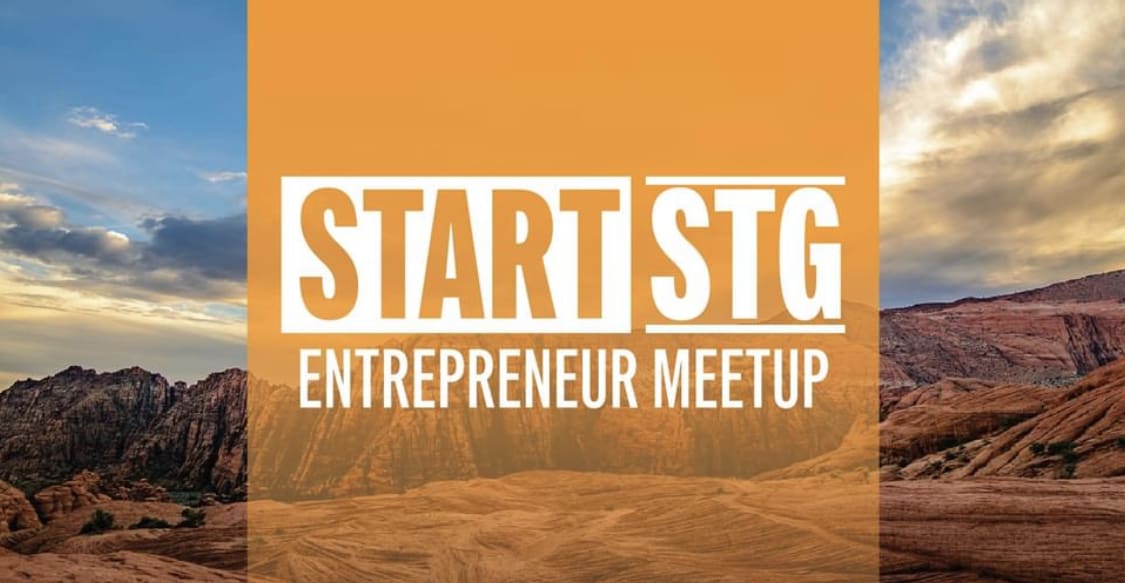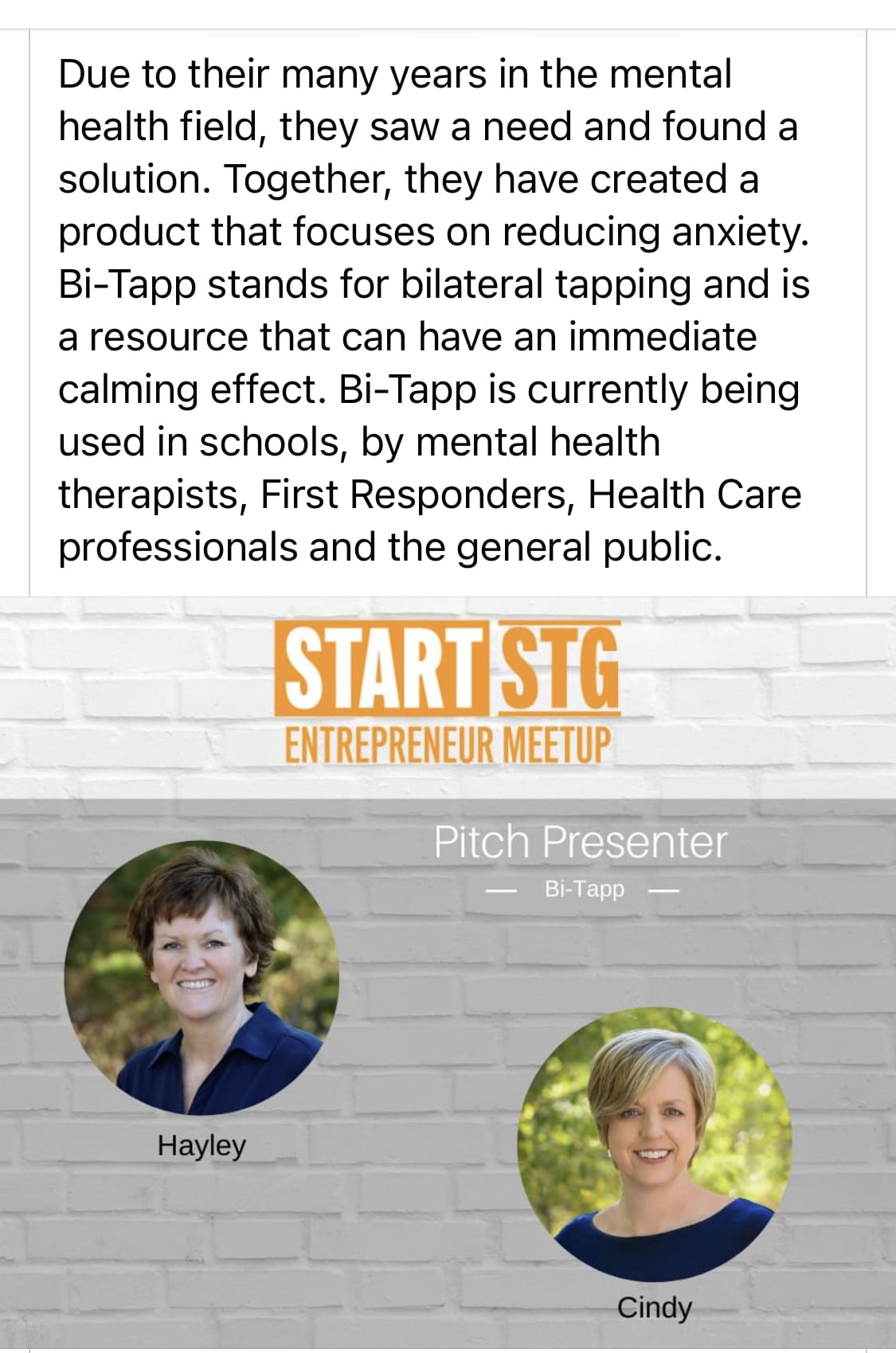 In honor of
Jolie
July 3, 2020
We want to express our grief at the passing of our dear friend, Jolie. She was creative, intelligent, genuine and kind. She loved to uplift and support others. She had a wonderful laugh and a beautiful smile. Jolie wanted to share how the tappers were helping her regulate her emotions after she was diagnosed with frontotemporal dementia (FTD). She managed this diagnosis with with grace. We love you and will miss you so very much.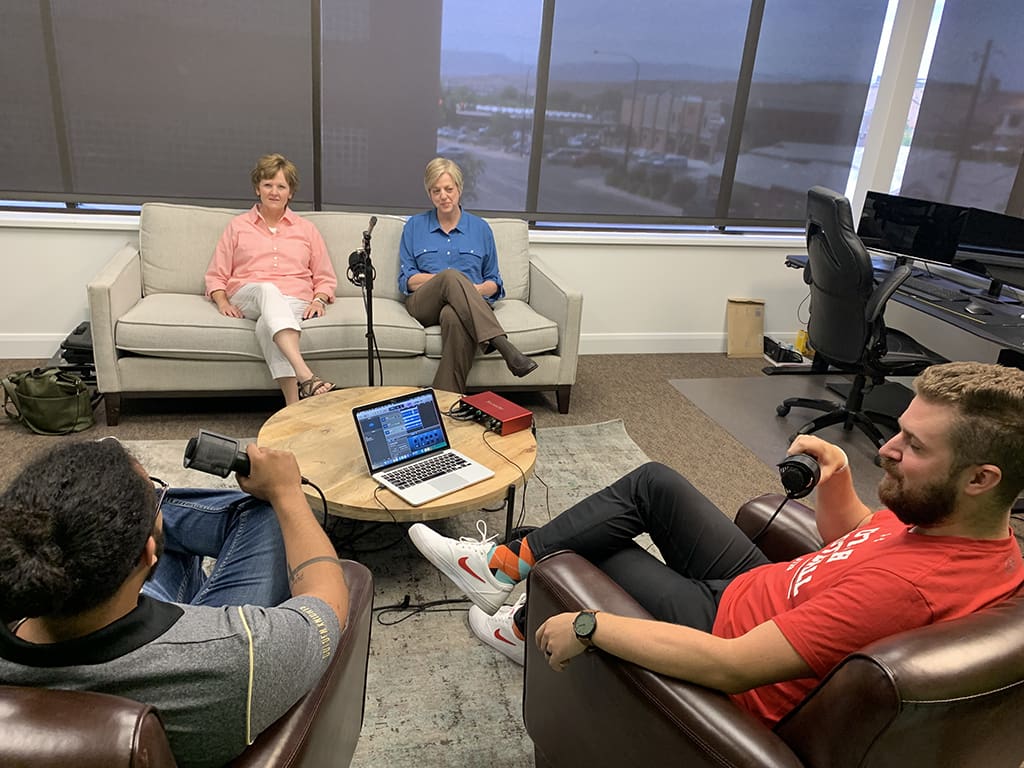 Bi-Tapp on the Helping Fortify Business
Podcast
Spencer Halford & Nick Lewis Helping Fortify Business Podcast
We sat down with Spencer and Nick from the Helping Fortify Business Podcast to discuss the benefits of Bi-Tapp and how Bilateral Tapping works to relieve anxiety and stress.
Listen to the Podcast Here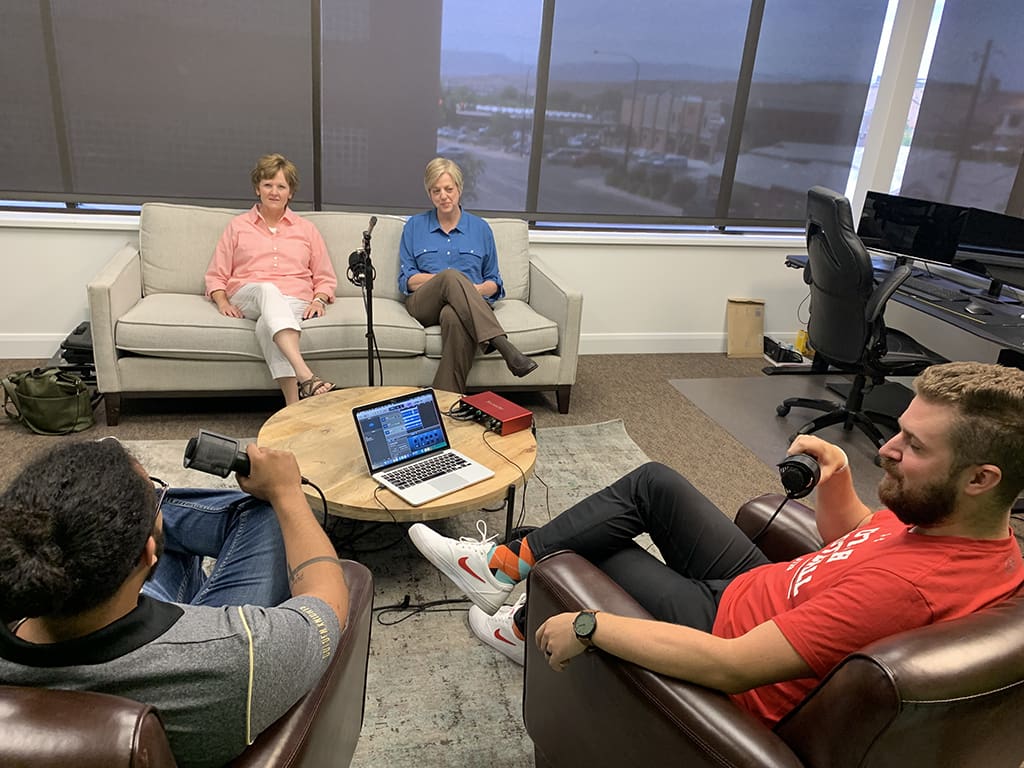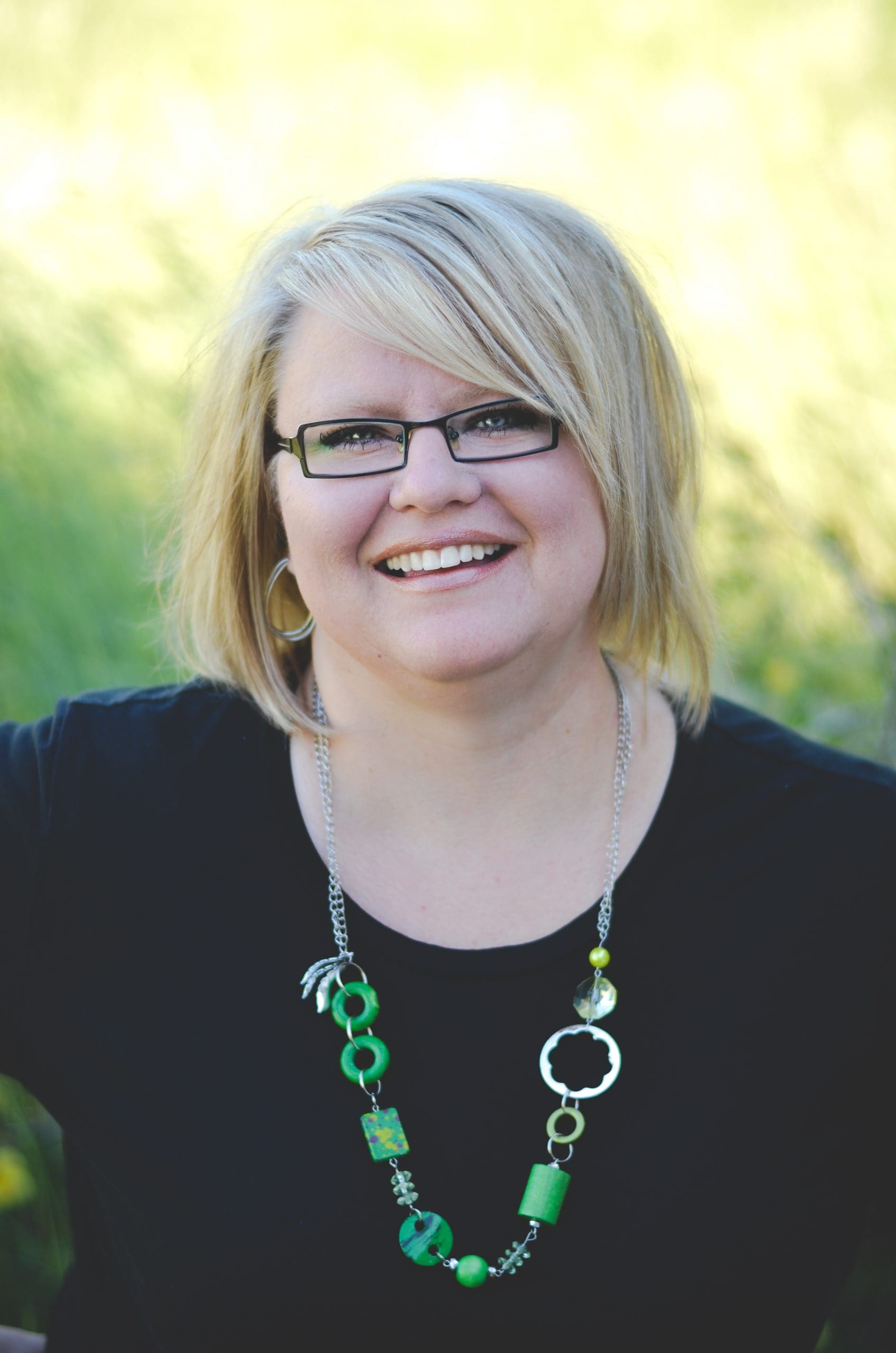 Canyon View
High School
KarriAnn Raddon, School Counselor
KarriAnn Raddon, School Counselor at Canyon View High School was awarded Educator of the Year by the Cedar City Chamber of Commerce in January 2020. She was honored for many things, including developing the Tapping to Wellness Program in her school. This program utilizes the tappers as a calming resource for the students. They have seen a significant decrease in anxiety and an improvement in test scores. The Canyon View High School Counseling Department was also awarded the Outstanding Secondary Team of the Year in the Iron County School District.
Thank you KarriAnn for your vision of how the tappers can benefit an entire school; students, teachers and faculty.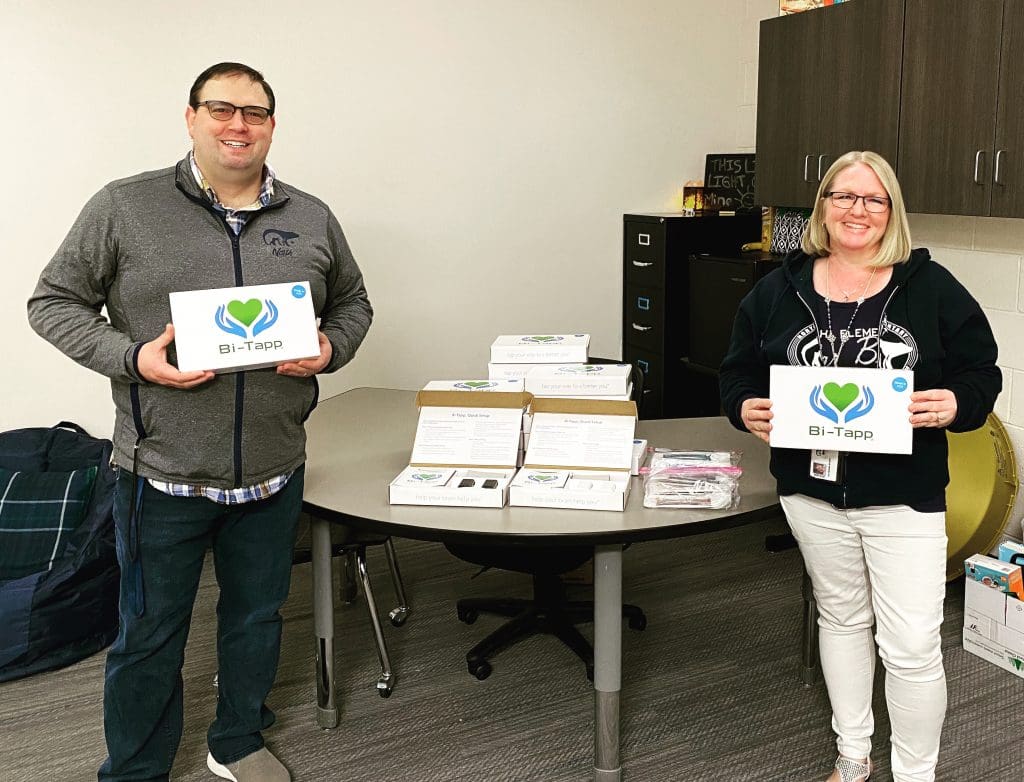 Safari
Hospitality
Eric Bonnett, LCSW, School Social Worker
Katherine Bleak, Wellness Room Coordinator
Safari Hospitality donated 27 Bi-Tapp kits to be used by students at North and East Elementary Schools in Cedar City, Utah. Thank you Eric Bonnett, LCSW, School Social Worker and Katherine Bleak, Wellness Room Coordinator at North Elementary for your outstanding work with students.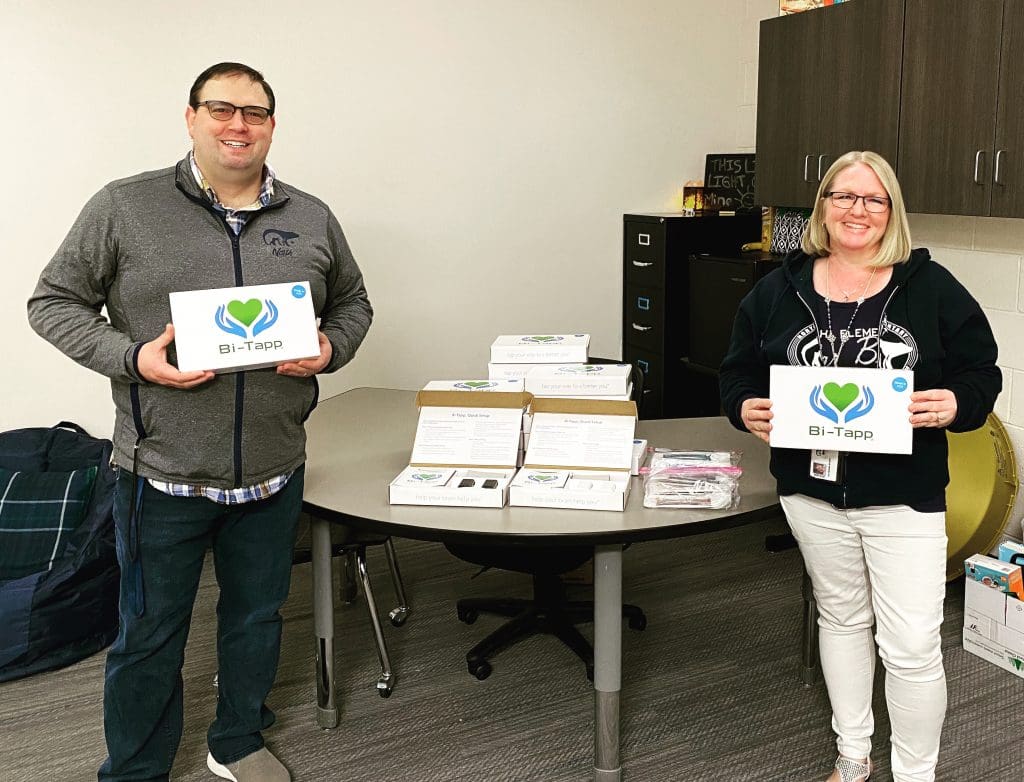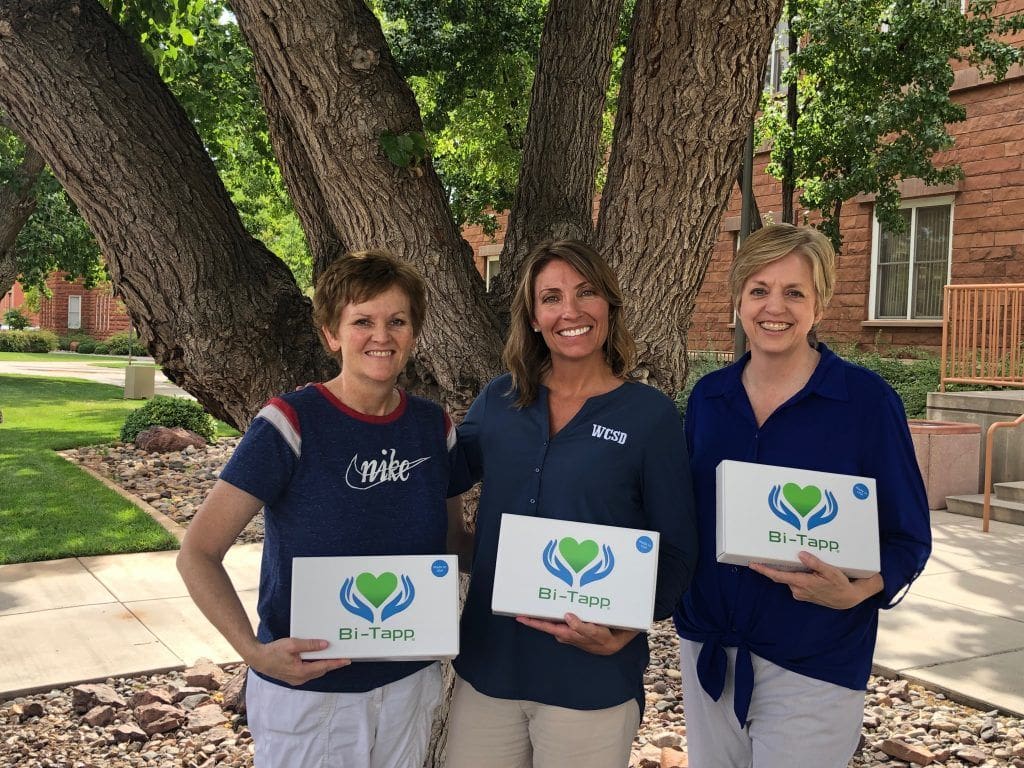 Washington County
School District
Tami Curtis, LCSW, Social Emotional Learning Coordinator
Washington County School District put tappers in all their Wellness Rooms throughout the District for the 2019/2020 school year. Thank you Tami Curtis, LCSW, Social Emotional Learning Coordinator for WCSD for all your hard work on behalf of the students in your School District.
KSL Learns About
Bi-Tapp!
Canyon View High School
On August 13, 2019, Felicia Martinez with the KSL TV Morning Team was at Canyon View High School for the first day of school to learn about their Tapping to Wellness Program.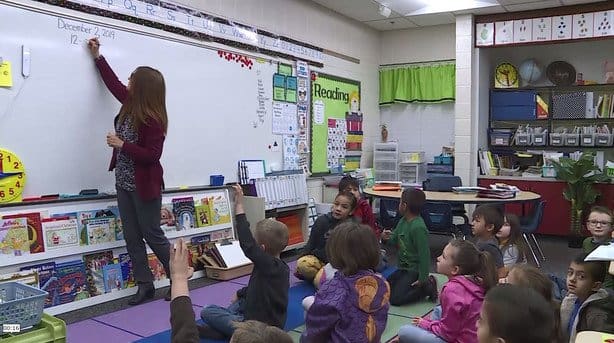 Sunset Elementary became one of the first schools to add a Wellness Center last year. Since then, behavior problems that landed kids in the principal's office declined 85%.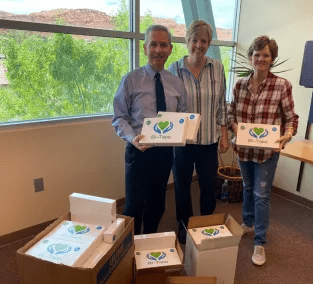 Southwest Behavioral
Health Center
Michael Deal, Executive Director
April 2020
Southwest Behavioral Health Center, provider of comprehensive behavioral health services to Beaver, Garfield, Iron, Kane and Washington Counties in Utah purchased several Bi-Tapp kits so that their clients could access the tappers for Teletherapy. Clients were able to check out the tappers for their sessions and then return them to the center afterwards.

Four Points Health
Paiute Indian Tribe of Utah
Tyler Goddard, LCSW, Health Director
October, 2019
We have provided tappers to Tribal Member clients and students to help calm anxiety, which they have reported the tappers helped. We are also using them in session to help clients as they discuss and work through difficult emotions and trauma. Additionally, our therapists are using the tappers for themselves to help them stay calm and regulated as they experience secondary trauma and compassion fatigue.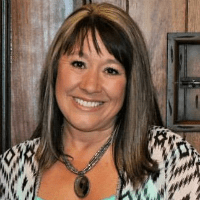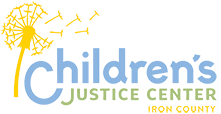 Children's Justice Center (CJC)
Iron County, Utah
March, 2019
The Children's Justice Center, whose motto is "A place where small voices are heard", is designed to help children and families feel safe as they deal with the initial crisis and chaos that is often experienced after abuse has been disclosed. Bi-Tapp is one of the resources offered to those who are at the CJC prior to being interviewed. Having access to a resource that is simple to use and effective at helping someone calm down is of top priority.
Stephanie Ward, Executive Director of Iron, Beaver, Kane and Garfield County in Utah was the first CJC Director to utilize Bi-Tapp as a calming resource not only for the children and families coming to the CJC in crisis, but also as a resource for the helpers, including the First Responders.
Route 91 Harvest
Music Festival Tragedy
Bi-Tapp is an approved discretionary item for anyone with a claim number from the October 1, 2017 tragedy. There is no timeline for requesting tappers. Please email us at: customerservice@bi-tapp.com to receive information on how to request and receive a Bi-Tapp kit..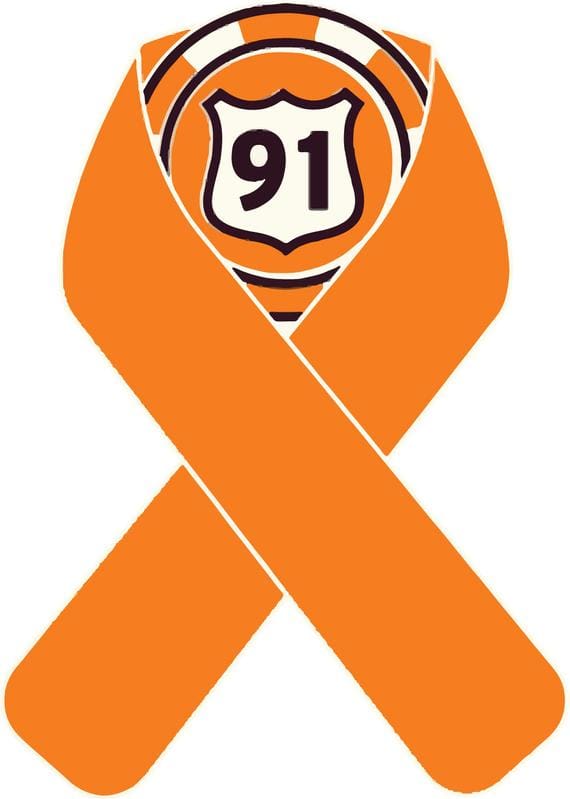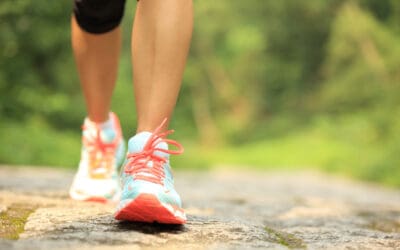 Bilateral coordination is a term that is interchangeable with bilateral stimulation and bilateral tapping. Bilateral coordination is...
read more
Bi-Tapp is Used
Around the World!