We are experiencing a mental health crisis in our communities on a level that has never been seen before. For example, during the pandemic, there was an 891 percent increase in calls to national hotlines. (1) The needs have continued to exceed the help that is available. Many people have had the experience of seeking help from a mental health therapist for yourself or a loved one. Most people quickly find out that the majority of therapists are not taking new clients. Therapists, like most people in the helping professions are overwhelmed, tired and burned out. It is as if there is a line of people needing treatment and no matter what you do, the line never seems to decrease. As a result of the needs being higher than the available help, communities are exploring various approaches and resources to help address the current mental health crisis.
In our community, located in southern Utah, there has been an annual fundraiser event for the past 39 years called the "Jubilee of Trees". People have the opportunity to bid on Christmas trees that have been decorated and then donated for the fundraiser. This year's focus was raising money to improve the availability and the accessibility of mental health resources for children and adolescents.
When you first walk into the event, you read startling information:
"The Intermountain West, like much of the nation, is experiencing a pediatric mental health crisis. Utah teens exceed the national average in depression, anxiety, and suicidal thoughts. The Centers for Disease and Control and Prevention recently confirm that the state's youth suicide rate had more than doubled, growing four times faster than the national average.
Fast Facts
Suicide is the leading cause of death for Utah youth ages 10 to 17
One in six children in this age range have at least one treatable mental health disorder
It's estimated that 40 percent of children who have depression are not getting care." (2)
Similar statistics and trends are found throughout the nation.
Bi-Tapp is actively involved in our local community.
We donated a Bi-Tapp kit as part of this fundraiser. These Bluetooth tappers are cheaper than the cost of two therapy sessions. They can be used hundreds of times. Bi-Tapp does not replace therapy but can be used during therapy as well outside of therapy as a calming resource. The tappers empower people of all ages to have access to a resource that can be used anytime and anywhere to reduce stress and anxiety. They  pair to the Bi-Tapp App. You are able to adjust the rate of speed of the tapping and the rate of intensity of the tapping. Choose the rate of speed and intensity that you find calming. Place the tappers on each side of your body: hold them, wear them on your wrists, place them in your pockets or your socks.
Why does bilateral tapping work as a calming resource?
The sensing part of your brain immediately notices the tapping. Because the tapping is bilateral (left/right), this activates each hemisphere of the brain, which automatically begins to calm down the fight/flight response. You are able to use this resource as often as needed to help you feel less anxious, less stressed and less overwhelmed. This bilateral movement is similar to when you go for a walk (left/right/left/right) You cannot always leave a situation to go for a walk to calm down, but you can always use your tappers.
We regularly work with schools, agencies, families, mental health therapists and the community at large, teaching how to calm your stress and anxiety through bilateral tapping (Bi-Tapp) and other "Help in the Moment" resources.
Bi-Tapp is an innovative resource being used in schools
It is impossible to hire enough mental health therapists and School Counselors to meet the mental health needs of the students they serve. Therefore, having a resource that is simple to use to help calm the fight/flight response is invaluable. This one resource can be accessed by many students throughout the school year. Dave Armour, LCSW who works at Gateway Preparatory Academy, serving K-8th grade, states that three sets of tappers have helped at least "50 to 100 kids" during one school year.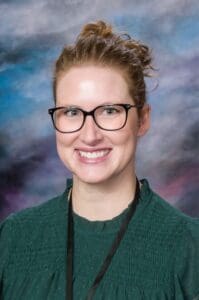 Lynsey Bond, School Social Worker for Beaver County School District, Utah, who covers the "entire" rural District, stated:
"Bi-Tapp has been an amazing resource for our students and staff alike. I can't be at every school every day. Because of Bi-Tapp accessibility, students are able to experience the benefits of increased emotion regulation without missing out on class time.
I am seeing students so excited about the difference that they see and feel within themselves and it's incredibly empowering. Bi-Tapp has increased the number of students that are able to receive additional help and they are opening doors for students who might not have felt comfortable meeting with me one on one.
Our staff have also found benefit using Bi-Tapp through increased calm and focus."
Bi-Tapp is a cost effective resource
A single set of tappers can be used hundreds of times throughout a school year. Students are regularly being taught how to regulate their emotions and are basic social skills. However, when someone is upset, they often don't implement the skills they have been taught. Accessing a simple resource to help calm the fight/flight response is a very effective way to help students find success at school. You can not actively engage in learning when you are anxious, triggered or overwhelmed.
Students of all ages who have used the tappers have shown progress in the following areas: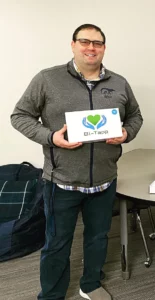 "The students quickly learn what the tappers are and how they can be a resource for them. Once students realize they have a tool that can help them calm down quickly or help them focus, they will often ask for the tappers when they need them," stated Eric Bonnett, LCSW, School Social Worker, Iron County School District, Utah. He provides services to two elementary schools in the District.
Bi-Tapp can help reduce burnout for those in the helping professions
The workload for anyone in the helping professions is overwhelming. Burnout is very high among professionals who are often on the frontlines. Many feel like First Responders due to the situations they are asked to deal with on a regular basis.
Bi-Tapp is a resource that anyone can use to regulate their stress levels "while" they are at work. "There are teachers who have checked out the tappers for themselves as needed. I, myself, use them when needed to regulate me and reduce anxiety." – Kayelyn R, LCSW, Reagan Academy, Springville, Utah.  M. Thomas, APRN stated: "The 'non-revenue generating work' is enormous and relentless…at work, I keep the tappers in my pockets and use them frequently. No one knows I use them…The Bi-Tapp tappers have become an essential tool of self-care for me personally and professionally."
As we collectively look for ways to manage the current mental health crisis we are experiencing, we are all part of the solution. Accessing a non-invasive, easy to use resource in the very moment you need it, can be life-changing. Simple solution, profound results. Bi-Tapp is the penicillin of our day. To learn more about this anxiety relief technology, go to bi-tapp.com
References:
Jackson, Amanda. A crisis in mental-health hotline has seen an 891% spike in calls. CNN, April, 2020.
Morgan, Alexa. "39th annual Jubilee of Trees returns to in-person celebration supporting behavioral health services.", St George News. November 16, 2022.